Case studies of some people we support
Sam: A story of a micro enterprise
"You can if you want to!" This is what Louise Fellows told Sam when he came up with the idea to create his own business. We will always support and encourage the dreams and ambitions of the people we care for.
Sam has difficulties with social communication and interaction, but he is very determined in his life. Before joining Life Path Trust he studied at Derwen College in hospitality and catering and was trying to find his path in this industry.
Life Path Trust gave him the opportunity to gain work experience by serving and working in a café that was supported by the City Council. Unfortunately, the contract had not been renewed and Sam, without a job needed to find something else.
His training and work experience gave him the confidence to come up with the idea of running a sandwich round! By taking his idea to our member of staff, he was told "You can if you want to!"
That was a start of a lot of hard work, with Sam being supported by all the people from Life Path Trust and other organisations to look at all the processes involved in starting up a business from scratch: researching, questioning, bookkeeping, registering...
Sam's business is now successful with regular customers and he has great plans for the future. He has been given a caravan, which he wants to turn into a catering van. We are now looking to support Sam on the next step of his journey and to give him practical help to achieve this. Who knows where Sam's enthusiasm and determination will take him next?
Ruth: A journey with dementia
By sharing Ruth's journey, we want to demonstrate that there are options for people with learning disabilities who also suffer from dementia. There are distinct advantages in enabling the person to remain in their own home until the end of their life or for as long as possible. Life Path Trust has made a commitment to providing excellent dementia care.
But let's go back years ago.
Ruth had Down's syndrome and then developed Alzheimer's. Before joining Life Path Trust she lived with her mum who took great care of her until her Mum died in 1990. Being left on her own, she was supported by Life Path Trust who found her a place to live with five other friends. First it was hard as she found being without her Mum very hard, but she started building her new life surrounded with lots of friends and a great community. While attending Life Path Trust Day Opportunities she was able to visit a variety of places such as Warwick races that she particularly enjoyed.
She was diagnosed with dementia in 2008, unfortunately this progressed very quickly. She already had a support plan and it had changed over the years as she became more dependent. With the severity of her dementia, her mobility and the ability to undertake day to day activities were reduced. At this stage she received 1:1 support, 24 hours per day. By the time she was not able to go out, the support team got members of the community to come to her to make sure she was surrounded by people she loved until the very end.
Ruth lived till a grand age of 64 years old.
By adapting to her changing needs and ongoing training, the staff team were able to offer a dignified and supported care package that has meant she could stay in her own home rather than be moved into a care home setting.
Chrissie: Financial support for more inclusion
All of the people we support are encouraged to be fully involved with their own finances and are helped to manage their savings and control their expenses. This means for the people we support more independence and inclusion.
Chrissie displays autistic tendencies that make it difficult for her to change some behaviours and she becomes upset when schedules are not followed.
Before joining Life Path Trust, Chrissie had very little savings and she faced lots of turmoil and disruption in her life. Chrissie started to be supported by us when the large care home she was living in was due to close. As first, we worked with Chrissie to ensure that she was receiving all of the benefits and grants that she was entitled to and that would at least enable her to buy the basics for her flat.
Once settled in we supported Chrissie to set up a savings account and budget wisely which she was more than happy to do. She now controls all of her own finances with support from her staff team and holds her own bank card to which only she knows the PIN number. Chrissie has now managed to save a good amount and has furnished her flat just the way she likes it as well as having money for holidays and larger items when needed!
Sharon: Engaging in social activities with the community
All people have different interests, views and ideas. That is why we make sure the person is fully understood and we try to fulfill their requirements.
Sharon is of Black British African Caribbean descent with autistic trait.
Before being supported by Life Path Trust and after her mum's death, Sharon was supported by a care provider who didn't support her with her cultural needs. The maintenance of her skin and hair was seen as a problem rather than normal for her and was therefore neglected. She also found it impossible to change her routine and being comfortable in new situations and with new people.
She developed a strong desire to become more involved with the African Caribbean community. When Sharon joined Life Path Trust, we tried to support her with this. We identified one of our support coordinators who has strong links with the African Caribbean community. Slowly she has been introduced and has become involved with this group.
Sharon volunteers to help run a drop in centre for the over 60s within the African Caribbean community. She has been able to reconnect with family friends that she has not seen for many years. Sharon is supported to attend every Friday where she is kept up to date with functions and events such as dances, parties, concerts and funerals within this community. Sharon fits in very well and is able to express herself by speaking patois (a dialect spoken in the Caribbean mainly Jamaica) and having it spoken back to her.
A Caribbean hairdresser was found to style Sharon's hair on a regular basis. Good skin and hair care is essential to her culture and she is supported by staff that don't just know about it but understand it!
Bill: Live life to the full
When Bill's Mum died he had to adjust to a completely life changing existence. He chose not to live with his sister and his family which was an enormous worry to them how was he going to find supported living.
He had been so close to his Mum and she had devoted her life to him. He had, and never will, travel independently as he is very vulnerable. He cannot read or write. He helped his mum around the house a lot and as she aged he assumed more responsibilities but had never had to cope alone to cook or wash and iron.
With all the care and support from several staff at Life Path Trust Bill has been able to create a new life for himself. He enjoys support to shop, make visits, goes on day trips and even had a holiday in Blackpool with a member of staff. He is lucky as he has one particular staff member who shares many of his interests. Bill loves all the social events and enjoys having a cuppa in his neighbours flats.
He has a much better social life now. He loves a joke with all the staff and feels valued and respected by them. At his annual reviews he is always keen to express his needs and staff always try to be accommodating. They are very amenable and flexible as Bill's weekly routine is always changing and evolving. It is great that this happens and his coordinator listens and communicates between us all really effectively, making it possible whenever he can.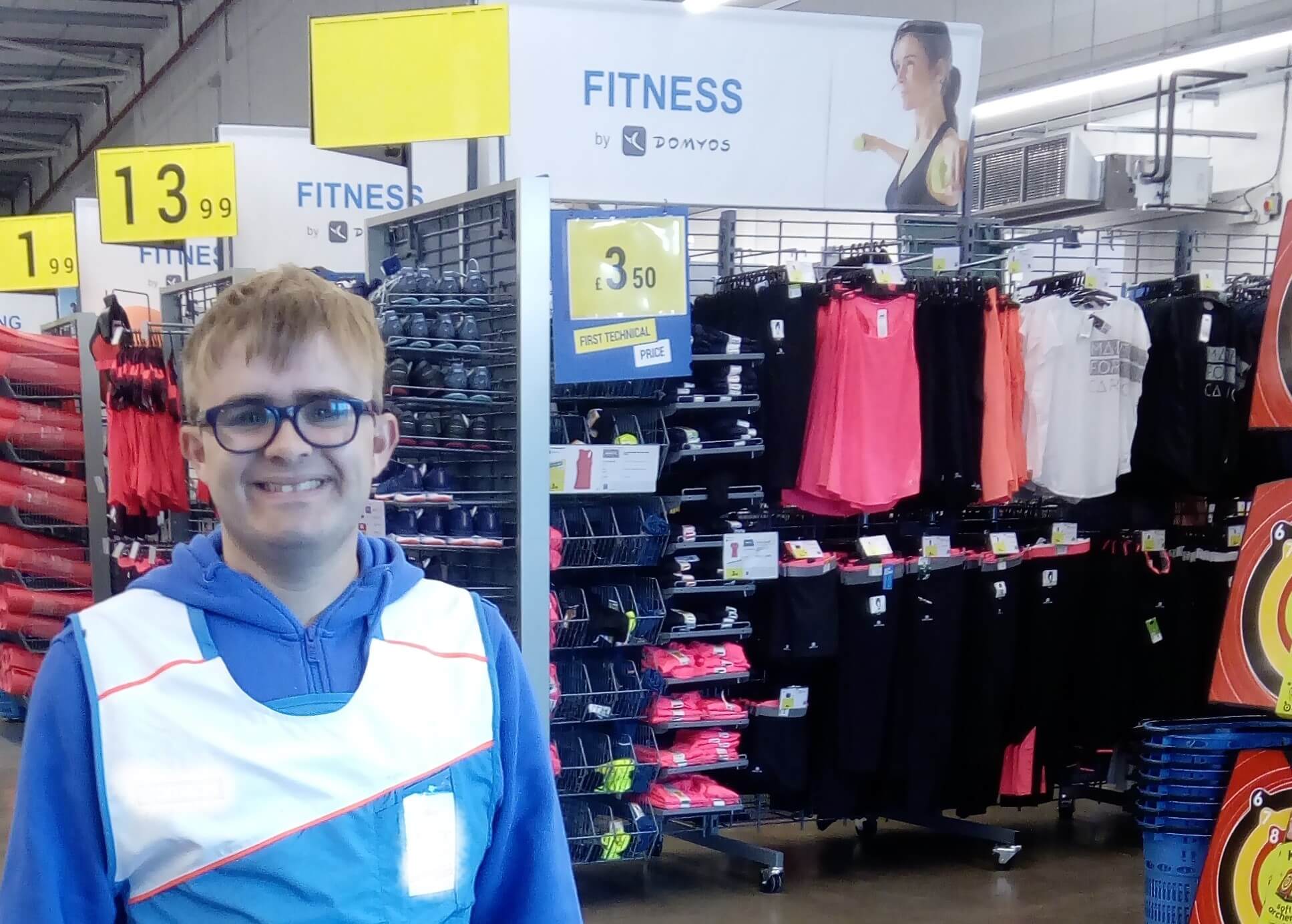 Some people need a little bit of help to get the life they really want. Getting a job for people with learning disabilities enables them to open the doors to a brighter future, full of plans to enjoy a more independent life. Elliot's story is about this achievement. As a team, we have told him that he can achieve his goals if he works hard enough and never gives up.
Elliott is a young man who is 25 years old with learning disabilities who has autism.
Before working on the ConnectMe project with Megan Priestley and Amanda Higgins, Elliott went to Derwen College in Shropshire where he received 24 hour care. Elliott has a very close bond with his family and is dependent on staff or family to support him.
We started working on his career plan with ConnectMe/Life Path Trust in April 2018. At first he was shy and had difficulty in expressing what he wanted. But we understood straight away that he had an interest in sports. After a year of research and support trying to give him confidence and after preparing interviews, he finally got an appointment in a local sport store working as volunteer store assistant.
He successfully got the job and started on 10th October 2018. He is thoroughly enjoying it. The placement has really helped Elliott; he has learnt new skills, including communication, time keeping and punctuality. He works professionally as part of a team in the store and has even built his first bike since doing placement here! He wants now to get married, he just "wants to have it all" the same as anyone else.
Elliott is one of the funniest, chattiest, kindest people you could ever meet! We hope Elliott continues to thrive in whatever he does in life! Well done to you Elliott!
Testimonials and feedback
Paul's sister
"I believe that the Person-centred approach should be adopted by all care homes in the country. It is excellent."
"I should like to commend all the staff at Leeming Close, especially Sarah for the wonderful support given to Paul during his issues with his broken arm. Paul's life is enriched by the warm family environment created, and the one to one and group opportunities he enjoys. Thank you!"
Kay, Bill's sister
"I have every admiration for all the members of staff and am very grateful for the hard work and dedication they have for their work. I would highly recommend Life Path Trust to other people in our situation. I feel that Bill has gradually developed more independence and self confidence in the last five years. He is happy!"
Marjorie - Sean's mother
"Life Path Trust has been good for Sean, he is well looked after and he appears to be very happy at Shuttle Street. They have also managed to get his brother to visit him and this has been a success."
Tim (one of our citizens)
"I have been accessing Ellys Road Short Break since June 2018. Before this I was accessing respite elsewhere but I did not like it there. I like the staff at Ellys Road they treat me with dignity, allow me to express myself, they respect my rights, choices and decisions and treat me as an individual. The staff and the service have had a great impact on my life. I have learnt new skills and am now able to travel from Coventry to Banbury daily to college and visit my family independently on the train. The staff have supported me with cutting down on my smoking habit which has been reduced from 10 per day to 4 which is having a huge impact on my health. I have developed and learnt new skills in the kitchen and looking after my personal care. The staff have also motivated me to become confident and helped me achieve my goal of losing weight."
Megan (one of our citizens)
"Ellys Road means a lot to me I have been living there for the past 15 months, during this time the staff have given me lots of support and are very kind to me. They have supported me in a respectful way. I have learnt new skills such as cleaning and keeping my bedroom tidy, baking some of my favourite cakes and cooking my favourite meal Spaghetti Bolognese. I also built on skills I already had such as making lovely cups of tea, washing up and making sandwiches. My family and friends think I have grown in confidence and my self-esteem is much better. The staff support me to go on activities and helped me get back in college."
Jeffrey (one of our citizens)
"I like my time at Ellys Road I have been coming here for a long time. I like the activities such as going for pub meals, going bowling, cinema and going to Birmingham on the train. The staff are very helpful, caring and kind. Ellys Road feels very homely the bedrooms are lovely and the meals are delicious."